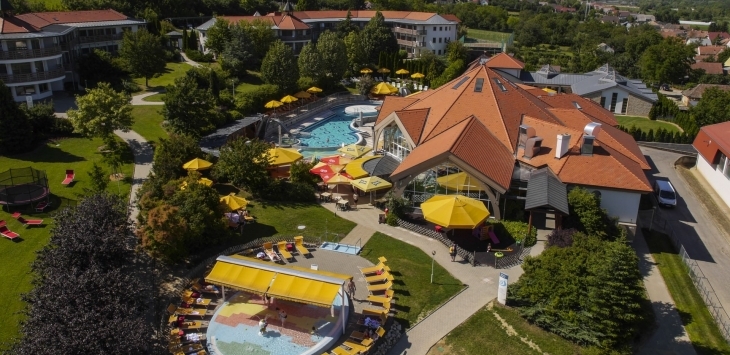 Kolping was awarded the first gold-medal!
16. 05. 2019.
For Kolping it has been taken for granted for 23 years, other hotels are now starting to measure it. What does it take for a hotel to be family-friendly? We have felt for a long time that the benchmark was missing that would make it easier for persons traveling with small children to make their choice.
The Hungarian Association of Hotels and Restaurants (MSZÉSZ) has developed a new, standard system of assessment and requirements for family-friendly accommodations. The first hotels have already received their ratings. The system of criteria makes distinctions for family-friendly hotels on three levels: bronze indicates entry level, silver advanced level and gold mature level. After a thorough assessment, Kolping Hotel received the first gold level rating!
"Within the Association we considered it important to "sort things out" in the family-friendly service segment. The Hungarian Tourism Agency also urged this step, thus during the study of European practices and several rounds of alignment discussions within the trade, we have created a system of criteria consisting of 91 points, which provides a guarantee for the customers, and serve as guidance to accommodations" – said Csaba Baldauf, general vice- president of MSZÉSZ, the director of our hotel to turizmus.com.
Standardization of the conditions expected of family-friendly accommodations has long been an endeavor close to the heart of Csaba Baldauf. From the perspective of the customer it is not easy to find out from the abundance of similar offers what is the difference between two hotels, with both of them having playrooms and programs for children.
Currently this could mean two plastic tables with coloring books and a children's movie shown once a week. But it could also mean an empire of play with several rooms, qualified kindergarten teachers, supervision of children and 20 to 30 children's programs per day.
In our hotel we have been working on developing, refining this latter offering for several years. In 1996 we were the first hotel in the country to commit to strengthening and supporting the importance of the family during rest and relaxation.
We will continue down this path. And now we also have a gold rating for it!
Kids go half price
Half the price, double the fun
"In this hotel everything is about children's and their parent's well-being: microvawe oven and fridge in the rooms, separate kitchen for cooking for babies, animators in the playing room, mini-disco, baby food in the restaurant, playground in the very nice garden... and so on, and so on. Really perfect for families with kids!"
Heidi K
TripAdvisor, 28. September 2017
Playground reloaded

We inaugurated our new Boboland playground in very special company, however something was missing.

Next